Here you will find information for some of Katharine Kerr's older SFF titles, as well as her anthology listings. For a complete listing of Kerr's writing, please visit the Bibliography page.

Polar City Blues (1999)
Read an excerpt.
Polar City Nightmare (2000)
---
The Pinch series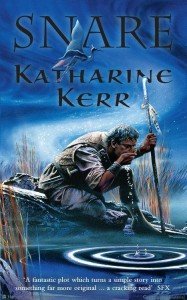 Palace (1996) with Mark Kreighbaum
Snare (2003)
Read excerpts from Palace and Snare.
---
Stand-Alones
Resurrection (1992)
Freeze Frames (1995)
Read an excerpt from Freeze Frames.
---
E-Books
Polar City Blues
Freeze Frames
Deverry: Three Tales
Dark Magicks: Two Tales
---
Anthologies
Edited with Martin H. Greenberg
Weird Tales from Shakespeare (1994)
Enchanted Forests (1995)
The Shimmering Door (1996)
Sorceries (1997)
Read excerpts from each anthology.